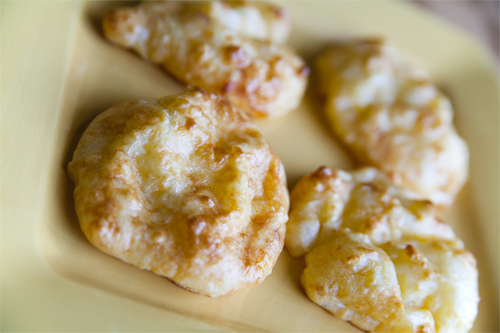 Brazilian Cheese Rolls
Prepared by Sarah Shilhavy, Photo by Jeremiah Shilhavy
This recipe is naturally gluten free. The cheesy, buttery, rolls or "puffs" have a light, crisp outside and a very chewy and soft inside.
Yield: 6 servings
Preparation Time: 15 minutes
1/3 cup coconut oil*
1 cup milk
3/4 teaspoon salt
2 cups tapioca flour
2 eggs, beaten
1 cup mozzarella cheese
Preheat oven to 375 degrees F.
Pour oil, milk and salt into a saucepan and heat. As soon as it comes to a boil, remove from heat and stir in tapioca flour until well mixed. Let cool for about 10 minutes.
Stir in eggs and cheese. The mixture will be chunky.
Drop rounded, 1/4 cup sized balls onto a lightly greased cookie sheet. You can also flour your hands with the tapioca flour and roll the mixture into balls.
Bake in preheated oven for 10-15 minutes. Rolls should be puffed and lightly browned.
*Part butter can also be used with the coconut oil.
Recipe courtesy Sarah Shilhavy
Published on May 6, 2011