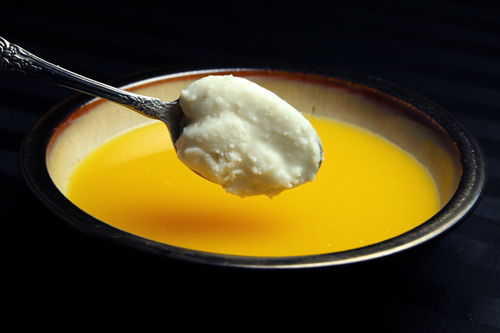 Butternut Squash Soup with Coconut Cream Concentrate
Prepared by Sarah Shilhavy, Photo by Jeremiah Shilhavy
Servings: 12
Preparation Time: 15 minutes
1 quart chicken stock
1 quart water
1 medium-sized butternut squash, peeled and cubed or baked with the flesh scooped out
Salt to taste (2 teaspoons +)
Any other cooked veggies that may be lingering in your fridge
Place stock and water in a large pot and add squash and salt. Cook over medium heat, covered, until heated through and the squash is soft (an hour).
Blend with an immersion blender or regular blender (in batches). Add other veggies before or after blending.
Top with a swirl of coconut cream concentrate and serve.
Recipe submitted by Cara, Billings, MT
Published on October 29, 2010