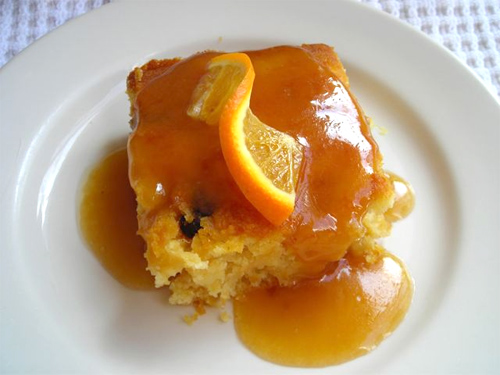 Calli's Gluten Free Coconut Fruit Cocktail Cake
photo by recipe author
Servings: 9-12 Hands-on: 30 minutes/Cooking: 30 minutes/Yield: 9 squares
One of my cooking assistants gave me her family's favorite cake recipe and asked if I could improve it. I replaced cake flour with a combination of gluten free flour blend and coconut flour, the sugar with honey, and the milk with non-dairy milk. The result, after five tries, was a raved about recipe.
To make your own gluten free flour blend, combine 1/2 cup white rice flour, 1/4 cup tapioca starch/flour, and 1/4 cup organic cornstarch or potato starch. Store extra flour in a sealed jar at room temperature. If you buy a gluten free flour blend, look for one that does not contain bean flour.
Dry ingredients:
1 cup all-purpose gluten free flour blend (see notes above)
1/3 cup coconut flour, fluffed with a fork and sifted before measuring
1/3 cup unsweetened flaked coconut (pulverize in blender if mixture is not finely flaked)
1/2 cup raisins
1 teaspoon non-aluminum baking powder
1 teaspoon baking soda
1/2 teaspoon finely ground unrefined sea salt
1/2 teaspoon guar gum or xanthan gum
Wet ingredients:
1/2 cup honey
8-ounce can crushed pineapple in 100% real fruit juice or fruit cocktail (do not drain)
2 medium to large eggs, at room temp (see variations below)
Hot Caramel Topping:
1 medium orange, cut into very thin slices for garnish
1. Position the oven rack in the center of the oven and preheat to 350? F. Generously grease an 8- or 9-inch square baking pan or 9-inch round cake pan.**
2. Lightly spoon the flours into a measuring cup and level with a knife. Add remaining dry ingredients, whisk well, and set aside.
3. Combine the wet ingredients in a bowl and stir or whisk to combine. Add the dry ingredients and stir to evenly distribute. Scrape the bottom of the bowl to mix in all the flour. Pour into the prepared baking pan. Smooth the top with a spatula.
4. Bake in a preheated oven until firm and slightly golden on top and a toothpick inserted into the center comes out clean, 30 to 35 minutes.
5. To prepare the sauce: Combine coconut milk, butter, honey, and sea salt in a 1 1/2 to 2-quart pot. Bring to boil, then reduce heat to medium and boil until the sauce is thick and caramelized and reduces to 1 cup. Remove from heat and stir in vanilla. If you prepare the sauce ahead, allow to cool, then cover, and refrigerate in a heatproof Pyrex bowl. Reheat gently in a toaster oven at 225?F until warm and runny.
6. To serve, run a knife around the edges of the pan and turn the cake onto a large plate or platter. Poke holes all over with a skewer or chopstick. Pour sauce over cake, garnish with orange slices, and serve. Cover leftovers and refrigerate after 3 days.
**For a double batch use a 13x9x2 pan.
* For the freshest coconut milk make homemade coconut milk. (See video at this link.)
Recipe submitted by Chef Rachel, Phoenix, AZ
Published on August 5, 2011