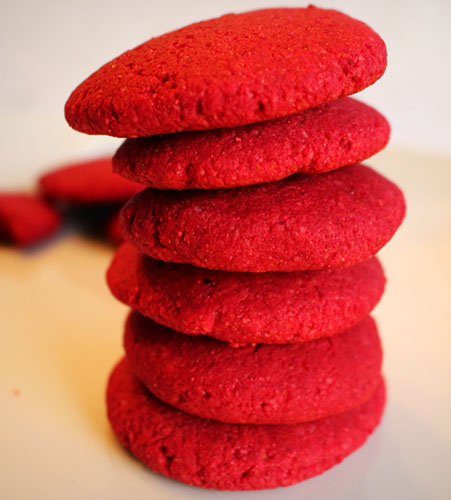 Can't Beat Gluten Free Beet Cookies
photo by recipe author
Servings: 12
Preparation Time: 30 minutes
1 cup almond flour
1 cup cassava flour
1/3 cup coconut oil, softened
1 medium beet, peeled and chopped
4 Mejdool dates, pits removed
1 egg
1 teaspoon vanilla
1/2 teaspoon baking powder
1/2 teaspoon salt
Preheat over to 350° F. Line a cookie sheet with parchment paper.
Mix the almond flour, cassava flour, baking powder, and salt in a large bowl.
Place the beets, Mejdool dates, egg, and vanilla in a blender or food processor and blend until smooth.
Pour the blended mixture into the bowl with the dry ingredients and stir. Add the coconut oil and mix well.
Scoop dough into balls, gently patting each one flat before placing on the lined cookie sheet.
Bake for 12-15 minutes.
Allow the cookies to cool for two minutes and then transfer to wire rack to cool completely.
Kathryn from Boise, ID won $50 for this recipe and photo! Submit your recipes and photos here!
Published on April 13, 2018