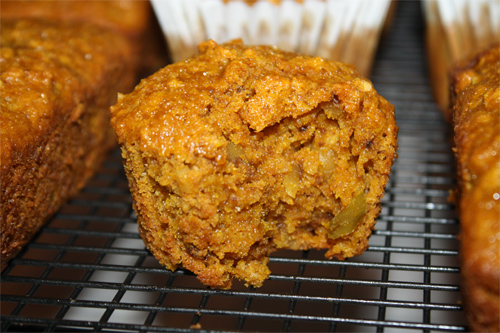 Carrot Apple Fall Muffins Recipe
photo by recipe author
Servings: 24 muffins/8 mini loafs
Preparation Time: 30 minutes
Preheat your oven to 350 degrees ºF.
Place carrots, coconut oil and eggs into a high-powered, high-capacity blender. Blend on high until the carrots are completely liquefied.
In a large bowl, combine flour, baking soda, baking powder, salt and cinnamon. Whisk to completely combine. Add sugar and stir to combine. Add the wet ingredients to this mixture, and stir until the dry mixture is totally wet.
Clean the apple and grate with peels included. Add grated apple, walnuts, oats and coconut to the mixture, and stir to completely combine all ingredients.
Either grease your muffin tin (I prefer to use stoneware) or mini loaf pan (not required if you use stoneware), or line with muffin papers. Fill 3/4 full and place in oven.
Bake for 30-40 minutes, until a toothpick inserted in the muffin comes out clean, or muffin top feels firm.
These muffins freeze well, so prepare ahead of time for Thanksgiving Day breakfast!
Note: this recipe has been scaled down from the original submitted yield from 48 muffins to 24.
Recipe submitted by Tamara, Spring, TX
Published on November 13, 2013