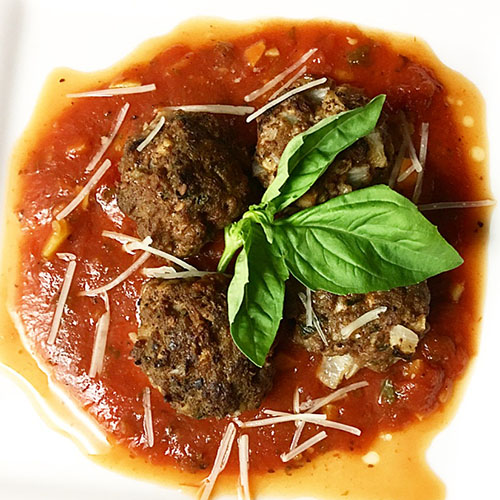 Basil Mushroom Grass-fed Ground Beef Meatballs
photo by recipe author
Servings: about 15 meatballs
Preparation Time: about 30 minutes
1 pound grass-fed ground beef
1 egg
3/4 cup mushrooms, finely chopped
1 small onion, chopped finely
1 clove garlic, minced or pressed through garlic press
small handful fresh basil, minced finely (about 1 tablespoon minced)
1 teaspoon Himalayan salt
1/2 teaspoon black pepper
1/4 teaspoon cayenne
1 tablespoon coconut oil
Mix all ingredients together, except coconut oil. Form into meatballs.
Heat skillet and add coconut oil. Brown meatballs in coconut oil on medium-high heat.
Place browned meatballs in baking dish. Bake at 425° F for about 15 minutes, or until done.
Enjoy plain or serve with your favorite red sauce.
Recipe by Lynelle. Image by Orissa. Submit your recipes and photos here for a chance to win $50!