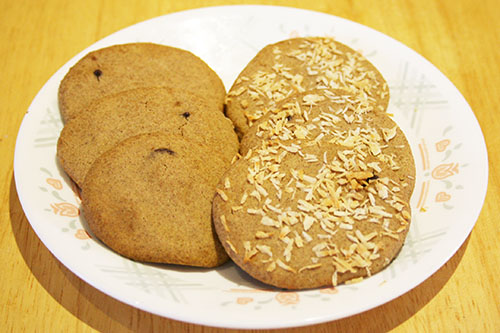 Gluten-Free Cinnamon Cookies
photo by recipe author
Servings: about 100 cookies
Preparation Time: 20 minutes
1/2 cup grass-fed butter
3/4 cup coconut oil
3/4 cup + 2 tablespoons organic sucanat
6 eggs
2 teaspoons baking powder
2 2/3 cups tapioca starch
6 cups rice flour
3-4 tablespoons cinnamon powder
handful chocolate chips
handful raisins
Mix butter, coconut oil, and sucanat together until creamy. Add eggs to the mixture. Add dry ingredients.
Slowly add water until the mixture is wet enough to be shaped into a soft dough. Scoop dough by the tablespoon onto a prepared baking sheet, shape dough into cookies by hand.
Bake at 375° F for 30 minutes or until golden brown.
Tiffany from Toronto won $50 for this recipe and photo! Submit your recipes and photos here!