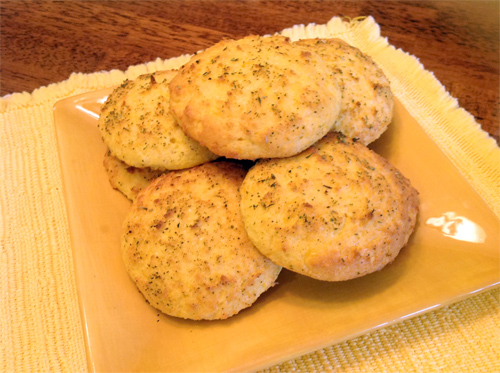 Cheesy Coconut Flour Bacon Biscuits
photo by recipe author
Servings: 9
Preparation Time: 30 minutes
6 eggs
1/4 cup bacon grease or
grass-fed butter/ghee (melted, and slightly cooled)
1 cup shredded cheese, sharp cheddar (preferably raw cheese)
1/4 teaspoon sea
salt
1/4 teaspoon
onion powder
1/4 teaspoon
garlic powder

1/2 cup + 2 tablespoons Tropical Traditions
coconut flour

1 teaspoon baking powder
Herb seasoning of your choice
Optional: 4 slices crunchy bacon, crumbled
Preheat oven to 400 degrees ºF.
Blend eggs, bacon grease, and cheese. Combine coconut flour with baking powder, salt, onion powder, garlic powder.
Combine wet & dry ingredients until uniformly mixed. Stir in the bacon bits.
Drop batter by muffin scoop onto greased cookie sheet or silpat. Flatten slightly with the side of a butter knife or spatula, if desired or for burger buns. Sprinkle with herb seasonings.
Bake in preheated oven for 15-20 minutes.
Jenny from Hendersonville, TN just won $50 for this recipe and photo!
Submit yours
here.
Published on June 24, 2014