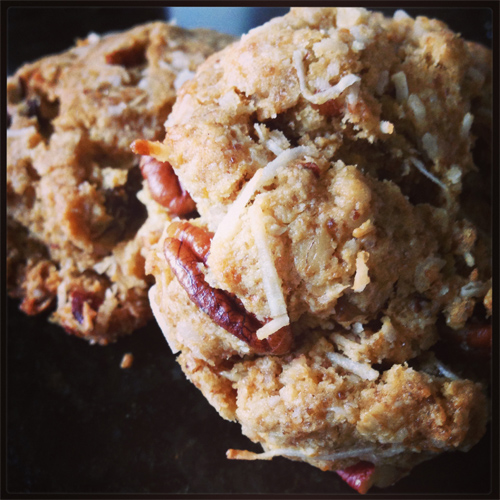 Servings: 24
Preparation Time: 30 minutes
Preheat oven to 325 degrees ºF. Line a cookie sheet with parchment paper.
Cream the coconut oil and sugar in a large bowl, add the eggs and vanilla. In a separate bowl, mix the oats, almond flour, baking soda and salt. Stir the wet and dry together, then add the raisins, coconut, and pecans.
Roll into golf-ball sized cookies, and flatten slightly with your palm. The cookies shouldn't spread too much, so you can place them about an inch apart.
Bake for 8-12 minutes, until the cookies are golden and fragrant.
Best when served chilled.
*You can grind your own almond flour by placing whole almonds in a blender/food processor and blending until you get a fine meal.
Laura from Bend, OR just won $50 for this recipe and photo!
Submit yours
here.
Published on July 11, 2014