This is a great snack.
It's chewy, crunchy and buttery with a pleasantly mild sweetness, as well as being naturally gluten and dairy free.
You can play around with this recipe a bit, but make it "as is" first. The almond butter can be swapped and/or combined with other nut butters, like peanut, coconut cream concentrate, or coconut peanut butter. But my favorite is almond. It's so creamy and buttery!
Other mix-ins are great as well: chocolate, nuts, dried fruit, more coconut, less brown rice cereal, a little coconut oil – have fun with it! This recipe isn't super fussy.
But the best thing is that you could be stuffing your face with these tasty little bites in under 10 minutes.
Make them now.
Enjoy!
Sarah
Chewy Crispy Rice Bites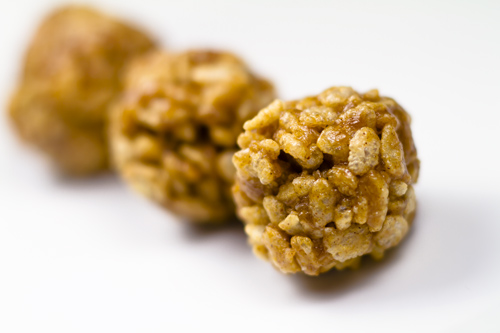 Chewy Crispy Rice Balls
Prepared by Sarah Shilhavy, Photo by Jeremiah Shilhavy
Yield: approximately 2 dozen small balls
Preparation Time: 5 minutes
Mix the almond butter and brown rice syrup together in a medium saucepan. Stir and heat until melted and bubbly; approximately 2 minutes.
Remove from heat and add vanilla extract. Add remaining ingredients and stir well.
Roll into small balls with oiled or wet hands to prevent sticking and chill in the refrigerator or freezer.
Eat!
Recipe courtesy Sarah Shilhavy
Published on May 18, 2011