As you may already know, my main goal in making GF recipes is foolproof-ness; I don't want it to just look like their gluten cousins, they have to taste like them too.
I think this cookie really nails that. Not only does it look exactly like the classic wheat flour chocolate chip cookie, it tastes just like it too. Even the cookie dough is great. The baked cookie though is moist, chewy, slight crisp outside and that wheat-like bite. An experienced taste bud may pick up on the slight gritty texture of the brown rice flour but unless you're thinking about it and know what brown rice flour is like you'd never know. If the slight grittiness bothers you, try sifting the flour through a very fine sieve before measuring.
When you watch the video below and read the recipe you'll see that I have unsalted butter and salt listed in the ingredient list. Well, you don't *need* to use unsalted butter. I usually just do salted butter and omit the salt.
So, are you hungry for cookies yet? Let the video take you through the whole process, then whip up a batch yourself (and let us know what you think). And if you decide not to tell anyone else these are GF, then that's okay. They'll never know. But it is kinda cool to see their faces if you do decide to tell them after they've devoured more then their share…
Enjoy!
Sarah:)
Chewy Gluten Free Chocolate Chip Cookies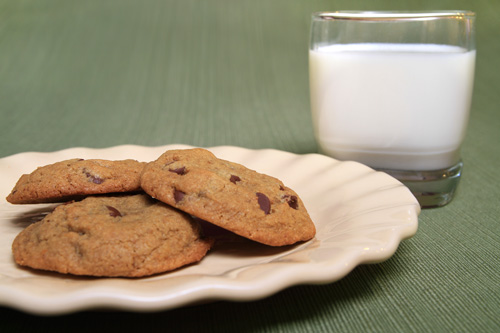 Chewy Gluten Free Chocolate Chip Cookies
Prepared by Sarah Shilhavy, Photo by Jeremiah Shilhavy
These cookies are excellent. They're perfectly crisp on the outside, and chewy on the inside. It's hard to tell that they're not made from wheat!
Servings: approx. 3 dozen cookies
Preparation Time: 15 minutes, plus 1/2 – 1 hour chilling time
Pour melted butter into the bowl of an electric mixer fitted with a paddle attachment.
In a separate bowl, stir the coconut flour, tapioca, cornstarch, rice flour, salt, xanthan gum, and baking soda together. Set aside.
Add the sugars to butter and cream together on medium speed for about 1 minute. Add egg, egg yolk, milk and vanilla extract. Beat until well combined. Add flour mixture by heaping 1/4 cupfuls until well combined. Add chocolate chips and stir to combine.
Chill the dough in the refrigerator until firm, about 30 minutes to 1 hour.
Preheat the oven to 375 degrees F. Line cookie sheets with parchment paper
Shape the dough into approximately 1 oz balls and place on prepared cookie sheets. Flatten tops slightly if desired.
Bake for 7 – 10 minutes, rotating sheets halfway through baking for even browning. Cool the cookies on the sheets for 2 minutes before moving to a wire rack to cool completely.
Variation: Add about 1 1/2 cups of dried, unsweetened flaked coconut to the dough for Chocolate Chip Coconut Cookies.
Recipe courtesy Sarah Shilhavy
Published on May 31, 2010