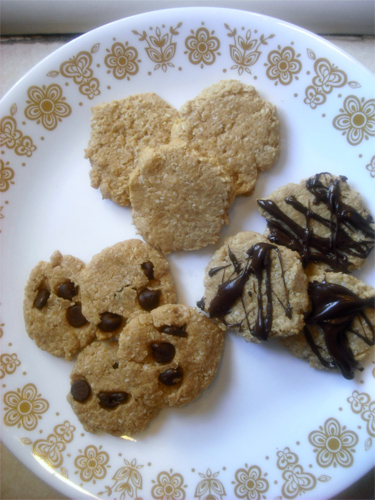 Chewy Peanut Butter Coconut Macaroon Discs Recipe
photo by recipe author
Servings: 12
Preparation Time: 15 minutes
Preheat oven to 325 degrees F.
Line cookie sheets with parchment paper. Stir together sweetened condensed milk, egg white, pure vanilla extract, peanut butter and salt. Add shredded coconut and stir until well combined. Place by teaspoonful onto parchment lined baking sheets. Spread cookie mixture out with spoon or fingers until about 1/4 inch thick.
Bake cookies for 8-10 minutes or until edges are golden brown. Cool on cookie sheet or wire rack.
Options: you can add chocolate chips or pieces in place of some of the shredded coconut (change to 1 3/4 cups shredded coconut & 1/4 cup chocolate chips) before baking or melt chocolate and drizzle over cookies after baking.
* You can make your own sweetened condensed milk with our recipe here.
Recipe submitted by Rebecca, Lyons, NY
Published on February 19, 2013