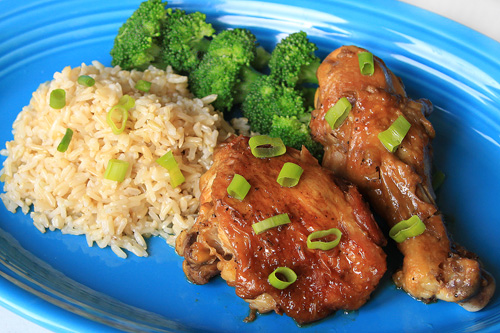 Chicken Adobo with organic brown rice and broccoli
Prepared by Marianita Shilhavy, Photo by Jeremiah Shilhavy
Servings: 6-8
Preparation time: 5 minutes
3 tablespoons coconut oil
1 whole cut up chicken
1/2 cup coconut water vinegar
1 tablespoon Worcestershire sauce*
8 cloves garlic, chopped
30 grams ginger, chopped
1/2 cup organic fermented soy sauce
Melt coconut oil over medium heat in a large pan. Fry chicken lightly on both sides.
While chicken is frying whisk all the remaining ingredients together. Pour over chicken.
Place a lid on the pan and simmer the chicken for 30 minutes. Turn over once and simmer for another 30 minutes or until done.
Serve with rice and vegetables and garnish with spring onions if desired.
* Can eliminate if gluten free is needed, or find gluten free version.
Recipe courtesy Marianita Shilhavy
Published on October 9, 2009