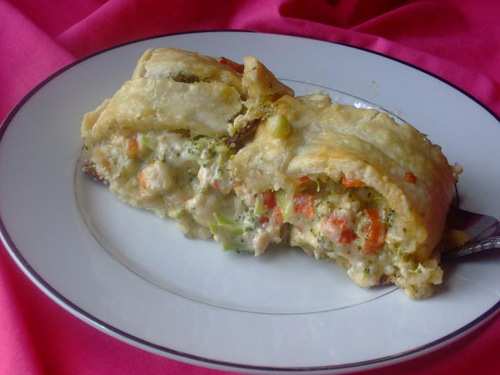 Chicken Broccoli Braid
Photo by recipe author
Servings: 5-9
Preparation Time: 15 minutes
Crust:
Filling Ingredients:
1 1/2 breasts chicken, cooked and chopped
2 bunches broccoli, chopped
1/2 red pepper, chopped
2 cloves garlic, freshly pressed
1 cup shredded cheese (sharp cheddar or Monterey jack)
1 cup mayonnaise* (use as needed, enough to lightly coat all ingredients)
Preheat oven to 400 degrees F.
Cut oil into flour and salt until mix finely. Pour in water and mix with fork and then knead with your hands just until pliable.
Roll out dough to rectangle. You're going to want to try and make it about 9×13, but it may not stretch that much. Mine didn't. Place dough unto a lightly greased cookie sheet.
Mix filling ingredients and put mixture in center. Cut the excess of both sides of dough into strips, but DO NOT detach from center of the dough. Take the strips up over the mixture and sort of pinch the two strips together.
Put a light egg wash (1 egg beaten with a little water) over the top and bake for 30-35 minutes.
*Recipe for homemade mayonnaise with instructional video found here
Recipe submitted by Amanda, South Whitley, IN
Published on February 22, 2010