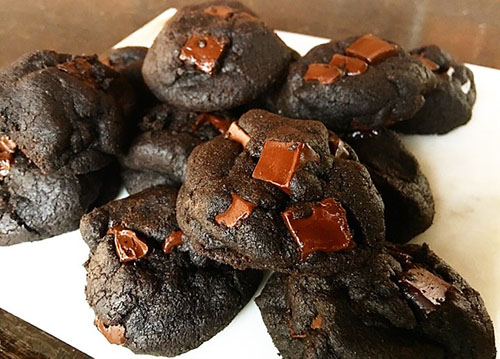 Chili + Dark Chocolate Cookies
photo by recipe author
Servings: 18-20 cookies
Preparation Time: 15 minutes
1 1/4 cups flour
1/2 teaspoon baking soda
1/4 teaspoon salt
1/2 teaspoon ground cayenne pepper
1/4 cup + 2 tablespoons, Dutch processed cocoa
1/2 cup coconut oil, room temperature
1/2 cup whole cane sugar
1/2 cup light brown sugar
1 large egg
1 cup chopped dark chocolate
Preheat oven to 350° F.
Line a baking sheet with parchment paper.
In a medium bowl, whisk flour, salt, baking soda, cocoa, and cayenne pepper. Set aside.
By hand, cream coconut oil and sugars together until smooth. Add egg, mix until combined.
Gradually add flour mixture, combine. Stir in the dark chocolate pieces.
Scoop dough by rounded tablespoons onto prepared baking sheet, about 2 inches apart.
Bake for 8-10 minutes, until cookies are set. They should still be soft in the center.
Remove from oven and allow to remain on baking sheet for 3 minutes. Move to a baking rack to finish cooling.
Recipe and photo by Orissa. Submit your recipes here for a chance to win $50!
Published on August 18, 2017