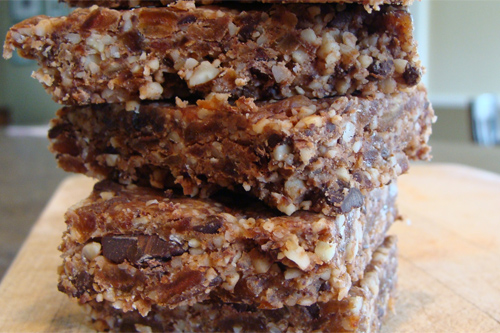 Chocolate Almond Coconut Bars
photo by recipe author
Servings: 24
Preparation Time: 20 minutes
1. First grind up the almonds and chocolate together until fine– but not too fine.
2. Leave half of the almond-chocolate mixture in the food processor and set the other half aside.
3. Add half a teaspoon of sea salt, 2 cups of dates,1/2 cup shredded coconut and 2 heaping tablespoons of almond butter and process until combined. Transfer into a large bowl.
4. Now process the remaining chocolate-almond mixture, sea salt, dates, coconut and almond butter. Add to the large bowl.
5. Wet your hands, further combine the mixture, and press firmly into a parchment lined 13×9 pan. Let the parchment hang over the ends so that you can lift the bars out.
6. Cover and refrigerate for a few hours or overnight. Lift the bars out of the pan and slice into desired size.
Recipe submitted by Leslie, Amsterdam, NY
Published on May 9, 2012