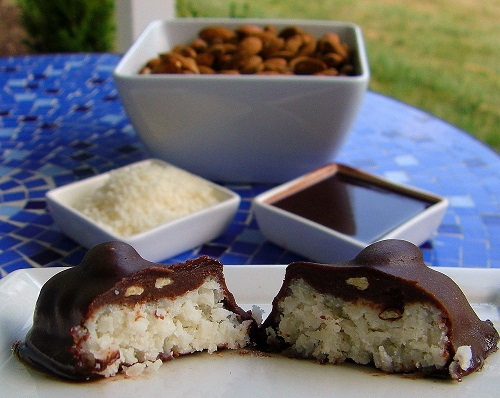 Chocolate Almond Coconut Bites
Photo by recipe author
Servings: 8 bites
Preparation Time: 2 1/2 hours
Coconut filling:
Chocolate sauce:
makes 1 1/2 cups sauce
For the coconut filling:
Mix all the ingredients except for the almonds until it becomes moist. Form into 8 rectangular bites, about 1 tablespoon of mixture. Line a baking sheet with parchment paper and place 8 coconut bites on the paper. Place 2 almonds on each bite, and refrigerate overnight or 1 hour.
Dip/pour chocolate sauce over the bites and refrigerate until hard.
For the chocolate sauce:
Place all ingredients in a blender and mix well. This sauce can be used for dipping, for chocolate-covered almonds, over ice cream, etc. If refrigerated, melt over warm water bath.
* For the freshest coconut milk make homemade coconut milk. (See video at this link.)
Recipe submitted by Noelle, East Lansing, MI
Published on September 6, 2010