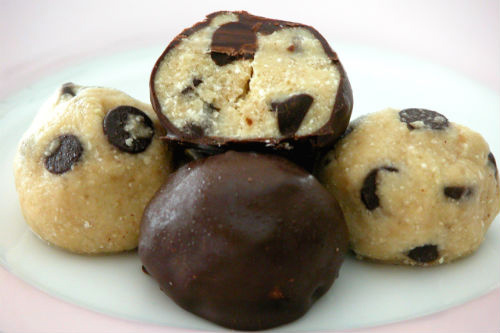 Chocolate Chip Cookie Dough Truffles
photo by recipe author
1 cup almond flour*
1/4 cup vanilla protein powder, or additional almond flour
1/4 teaspoon salt
1/4 cup powdered whole sugar or honey (adjust to taste)
1/4 cup coconut oil, melted (refined for no flavor, virgin for coconut taste)
1 tablespoon coconut milk** (omit if using honey or other liquid sweetener)
1 1/2 teaspoons vanilla extract
1/4 cup dark chocolate chips
Chocolate Coating:
1. Mix flour, protein powder, salt and sweetener in a bowl.
2. In a smaller bowl, mix all wet ingredients and pour into the dry and mix well.
3. Fold in the chocolate chips.
4. Roll into inch sized balls and place on a plate or lined cookie sheet.
5. Place in the freezer for 30 minutes.
Chocolate Coating (optional):
1. In a double boiler or saucepan placed over simmering water, melt the chips and coconut oil.
2. Once melted, remove from heat and dip each ball into the chocolate with a spoon and return to plate or cookie sheet.
3. Place the balls back into the freezer for the chocolate to harden, and store in the fridge or freezer.
*You can grind your own almond flour by placing whole almonds in a blender/food processor and blending until you get a fine meal.
* For the freshest coconut milk make homemade coconut milk. (See video at this link.)
Recipe submitted by Kate, Highlands Ranch, CO
Published on April 6, 2012