If you workout then you probably already know the importance of taking protein powder to help "refuel" after a strenuous workout. Taking just the same thing all the time though gets boring, so I've come up with some different ways to jazz up a regular old protein shake.
This is one that I really like, using the Double Bonded Chocolate Protein Powder. The frozen banana adds a wonderfully creamy texture and the xanthan and guar gums help thicken the shake almost to a pudding-like thickness. I like to eat it with a spoon sometimes. If you don't have any of the gums on hand though taking them out won't hurt too much. And oh, another thing: this isn't a very icy shake without the ice. So if you like your protein shakes icy be sure to include the ice (go by taste, I like to use anywhere from 5 cubes to a large handful).
If you're taking this for breakfast or as a post-workout drink I totally recommend adding the coconut oil as it'll give you that extra energy boost. This protein shake may be a little extra fuss then the normal water/milk + powder but it's worth it.
Let me know what you think if you try it!
Sarah:)
Chocolate Coconut Banana Protein Shake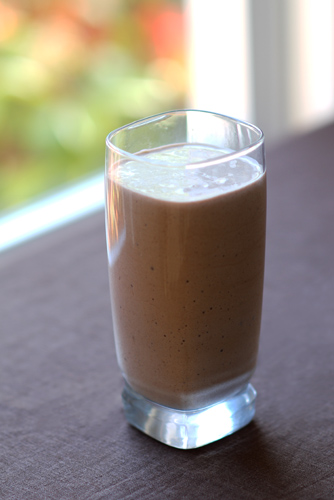 Chocolate Coconut Banana Protein Shake
Prepared by Sarah Shilhavy,
Photo by Jeremiah Shilhavy
Servings: 1
Preparation Time: 3 minutes
1-2 heaping scoops double bonded chocolate protein powder
1 teaspoon cocoa
1/4 teaspoon xanthan gum
1/4 teaspoon guar gum
1 frozen banana
3/4 cup water
1/2 cup coconut milk* or organic raw whole milk
5 ice cubes, optional (more or less as desired)
1-3 tablespoons coconut oil, melted
Add all ingredients except coconut oil to blender and blend, pouring the coconut oil in slowly. Continue blending until smooth and enjoy.
* For the freshest coconut milk make homemade coconut milk. (See video at this link.)
Recipe courtesy Sarah Shilhavy
Published on May 7, 2010