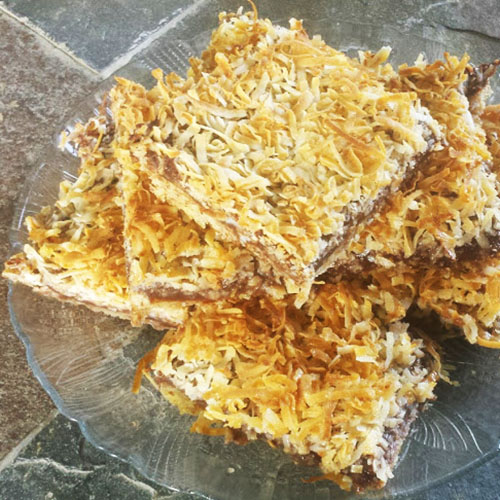 Chocolate Coconut Bars
photo by recipe author
Servings: 20 bars
Preparation Time: 30 minutes
Crust:
Filling:
Topping:
Preheat oven to 350° F.
Generously grease a 9×13 baking dish with coconut oil.
In a small saucepan, over low heat, melt butter. Add almond flour, coconut flour, and salt. Press crust evenly into bottom of greased baking dish.
In a small saucepan, over low heat, gently warm coconut cream concentrate, honey and coconut oil. Add chocolate and stir until smooth. Remove from heat and spread over crust layer.
Top with 3 cups shredded coconut, spread evenly across top layer pressing down slightly into filling layer.
Bake in oven about 10 minutes, or until coconut is toasted.
Cool completely on counter, then refrigerate until firm. Cut into bars, and store in the refrigerator.
Recipe and photo by Lynelle. Submit your recipes and photos here for a chance to win $50!
Published on May 16, 2017