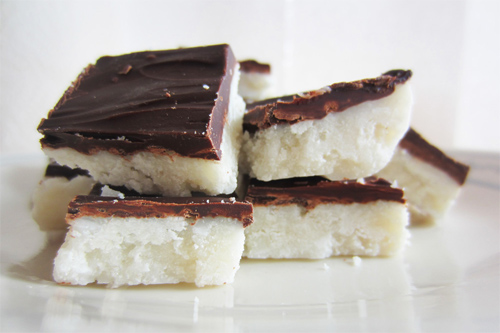 Chocolate Coconut Bars
photo by recipe author
Servings: 8
Preparation Time: 30 minutes
Warm coconut oil until it is liquid. Place everything except the chocolate chips in a blender and blend on high until smooth. (This will take about 5 minutes or so).
Spread into a 9×5 plastic container. Freeze for about 15 minutes. While coconut mixture is freezing, melt chocolate chips. Spread melted chocolate over frozen coconut and stick in the freezer again until chocolate is hardened. Pop out of container and chop into pieces. Consume. 🙂
Store leftovers in the fridge.
Recipe submitted by Raia, Ladson, SC
Published on February 24, 2014