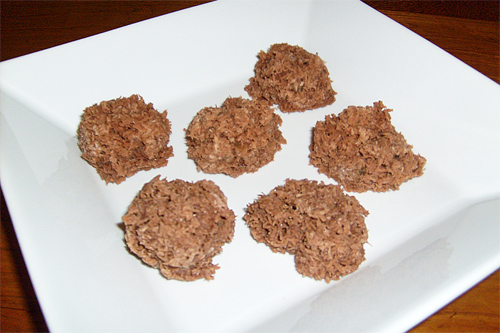 Chocolate Coconut Clusters
photo by recipe author
Servings: approximately 36
Preparation Time: 30 minutes
Measure the coconut and stir in stevia extract to your own taste. I use about 1/16th teaspoon of a concentrated powdered extract, but if you are using a liquid extract or packets you may want to use more.
Rehydrate the dried coconut by stirring in 2-4 tablespoons water then allow it to sit and become fluffy.
In a medium saucepan, bring the sugar, coconut milk, coconut cream concentrate, coconut oil, cocoa, and salt to a boil. Stir in the rehydrated coconut, oats, and vanilla and nuts. Drop by heaping teaspoon on a waxed paper-lined cookie sheet and refrigerate.
These delicious cookies should be stored in the fridge or freezer, as the coconut oil will melt on warm days!
Recipe submitted by Julie, Houston, TX
* For the freshest coconut milk make homemade coconut milk. (See video at this link.)
Published on September 9, 2011