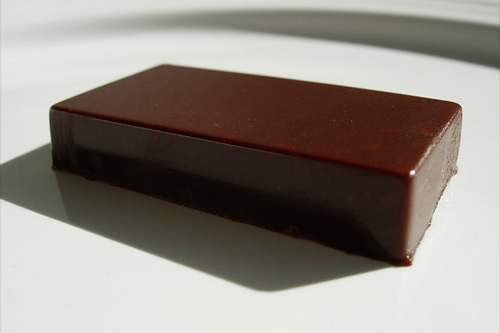 Chocolate Coconut Crème Bar
Photo by recipe author
Servings: 1
Preparation Time: 10 minutes
Melt down the coconut cream concentrate until completely smooth and melted.* Slowly add cocoa powder until thoroughly mixed in and smooth.
Add in your sweetener, starting with 1 teaspoon for a rich taste and increasing to desired sweetness. Add your choice of other ingredients (see below) into this base and mix until evenly distributed.
Pour mixture into a mold, or any suitable bowl of choice and stick it in the fridge or freezer to re-harden.
Enjoy!
Notes: Sunflower seed lecithin really adds a much smoother texture and is worth adding 1/2 teaspoon to recipe.
Additional ingredient ideas:
Sprouted and dehydrated buckwheat groats, shredded coconut, nuts and seeds of choice for a great crunchy texture.
Dried fruit of choice.
Different types of herbs, spices, or superfoods such as cinnamon, nutmeg, cloves, maca, spirulina, chlorella, etc…
Nut or seed butters.
*Watch the video here to learn how to soften Coconut Cream Concentrate.
Recipe submitted by Melina, Baltimore, MD
Published on February 6, 2010