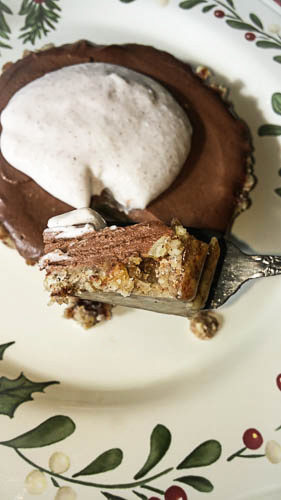 Chocolate Coconut Mousse Tart
photo by recipe author
Servings: 2
Preparation Time:  2 hours 30 minutes
Crust:
1/4 cup raw almonds
2 dates, pitted
1 tsp water
Dash of sea salt
Filling:
1/4 cup raw cashews
2 tablespoons coconut milk cream (from the top of coconut milk)
1 teaspoon coconut oil
1 teaspoon raw honey
1 tablespoon cocoa powder
In a small blender, combine crust ingredients and pulse until combined. Blend only until dates and almonds are in very small pieces. They do not have to be pureed together – small pieces are fine.
In a small blender, puree cashews, milk cream, oil, cocoa and honey until very smooth. Press crust mixture into a small tart pan. Pour filling mixture into crust. Refrigerate at least 2 hours or until set.
Courtney from Columbus, KS just won $50 for this recipe and photo! Submit yours here.
Published on February 6, 2015