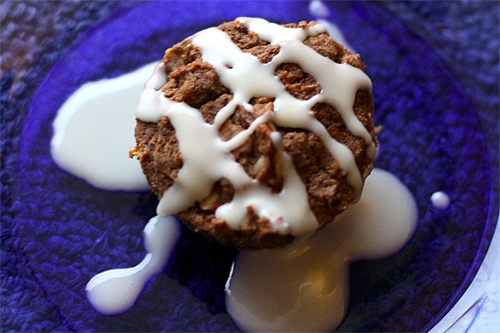 Chocolate Coconut Muffins
photo by recipe author
Servings: 12
Preparation Time: 10 minutes
1. Preheat the oven to 350. Prepare 12 muffin cups (lightly grease or line with paper liners).
2. In a medium mixing bowl, sift coconut flour, cocoa powder and cinnamon and salt together, add baking powder.
3. Combine sweet potato, eggs, honey, coconut oil and vanilla; whisk until well blended.
4. Add in dry mixture.
5. Fold in coconut flakes or other add-ins.
6. Divide the batter among the 12 cups. Bake for 18-20 minutes or until a knife comes out clean!
7. Drizzle some coconut cream concentrate on top and enjoy! You can leave this step out if you want to store them. They keep well in the freezer!
Recipe submitted by Sarah, Abilene, TX
Published on April 12, 2013