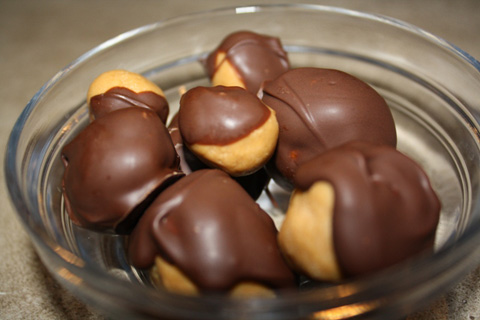 Chocolate Coconut Peanut Butter Balls
Photo by Ann M Huddleston
Mix peanut butters, honey or brown rice syrup, oat flour and coconut flour until it forms a dough-like consistency.
Add more peanut butter or flour to get the right consistency.
Roll into balls – size of your choice and put on foil.
Melt the chocolate chips with coconut oil – if you want to have the Peanut Butter Balls completely covered with chocolate, double the chocolate and coconut oil. To not completely cover the balls, use a table spoon and drizzle chocolate on each ball until you get the amount of coverage you'd like. To completely cover them, throw the balls in the chocolate and remove with spoon- cool on foil. Refrigerate if your house is hot but let warm up a bit before eating.
Recipe submitted by Ann M Huddleston
Published on September 25, 2009