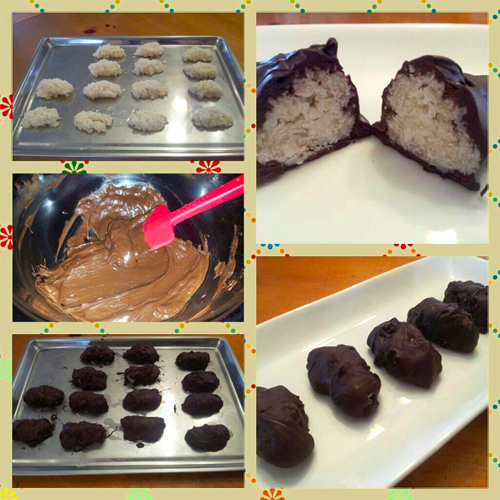 Chocolate Covered Coconut Candy Bars Recipe
photo by recipe author
Servings: 4
Preparation Time: 20 minutes
Chocolate Covering:
Coconut Bars:
Melt chocolate chips and butter in a double boiler. Stir and melt chocolate over medium heat.
Meanwhile gently melt coconut oil and honey together in a double boiler or stovetop over low heat. Once melted add shredded coconut and stir until combined. Add vanilla.
By now your chocolate should be melted. Remove it from the heat. If you don't let it cool a bit it will melt your coconut bars when you coat them.
Mold your coconut into small bars and place on a cookie sheet or jellyroll pan (preferably stainless steel) and place in the freezer to harden for about 10-15 minutes. Add an almond to the top before freezing as an alternative.
After the bars have hardened in the freezer, remove them and begin dipping them and coating them in the chocolate one at a time and placing back on the pan. Once they are all coated, place them back in the freezer until the chocolate has hardened. Then they are ready to enjoy!
Recipe submitted by April, Las Vegas, NV
Published on June 28, 2013