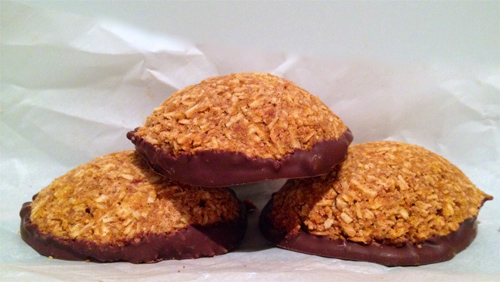 Chocolate Dipped Pumpkin Gingerbread Coconut Macaroons Recipe
photo by recipe author
Servings: 6-8
Preparation Time: 15 minutes
Preheat the oven to 300 degrees ºF.
In a medium-sized bowl mix together the shredded coconut and almond meal.
In a separate bowl combine the pumpkin, molasses, raw honey, cinnamon, ginger and nutmeg and then add it to the coconut and almond meal mixture. Use a spatula to blend and fold everything together and then drizzle in the coconut oil and mix again.
Place tablespoons of the mixture onto a parchment paper-lined baking sheet. Bake for 30-35 minutes until just starting to turn golden brown on the bottom edges.
Once the macaroons have cooled, melt the chocolate in a small bowl and dip the bottom of each macaroon into the chocolate. Place the macaroons back onto the parchment-lined pan and allow the chocolate to cool and harden.
*You can grind your own almond flour by placing whole almonds in a blender/food processor and blending until you get a fine meal.
Recipe submitted by Crystal, Baldwin, WI
Published on January 6, 2014