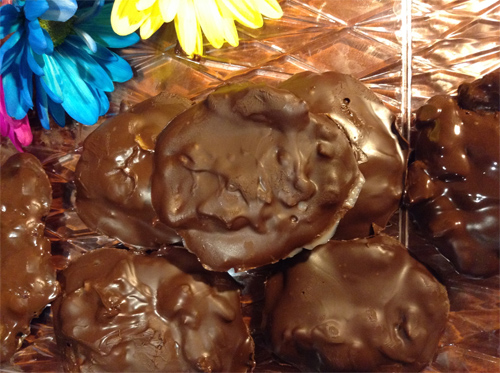 Chocolate Dipped Raw Honey-Almond Chews
photo by recipe author
Servings: 8-12
Preparation Time: 10 minutes
Melt 2 teaspoons coconut oil, in medium sized pan. Add honey, coconut flakes, almond slices, salt and extract, heat over medium heat for about two minutes.
Drop by teaspoonfuls (for 12) or tablespoonfuls (for 8) on a cookie sheet lined with parchment paper (I added a small amount of palm shortening to insure that the candies would not stick). Cool completely (I put mine in the fridge to speed up the process).
Meanwhile, melt the chocolate chips low heat just until melted. Add coconut oil and continue heating just until everything is melted.
Dip cooled candies into the chocolate and place back onto parchment-lined cookie sheet. Cool completely (works well to place them in fridge), and enjoy!
Rachel from Ontario, CA just won $50 for this recipe and photo!
Submit yours here.
Published on April 30, 2014