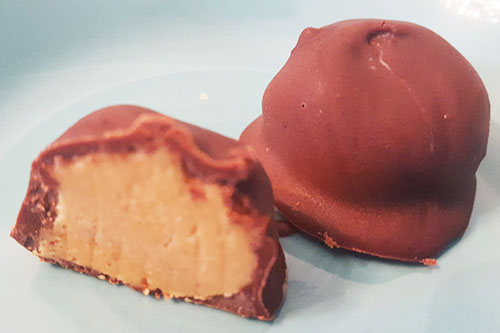 Chocolate Peanut Butter Balls
photo by recipe author
Servings: 20
Preparation Time: 15 minutes
Mix peanut butter and coconut flour and put in the freezer for about 30 minutes.
Meanwhile heat the coconut oil, cacao powder, and maple syrup on low heat until just melted. Stir in vanilla and salt. Put in the refrigerator until thickened, but not hardened, about 20 to 30 minutes.
Remove peanut butter mixture from freezer. Using hands, roll into about 20 small balls. Place the peanut butter balls on a piece of parchment paper, and put back in the freezer for another 20 minutes.
Finally, roll each peanut butter ball in the chocolate sauce, and store in the refrigerator or freezer.
Kelly from Monterey, CA won $50 for this recipe and photo! Submit your recipes here!
Published on September 8, 2016