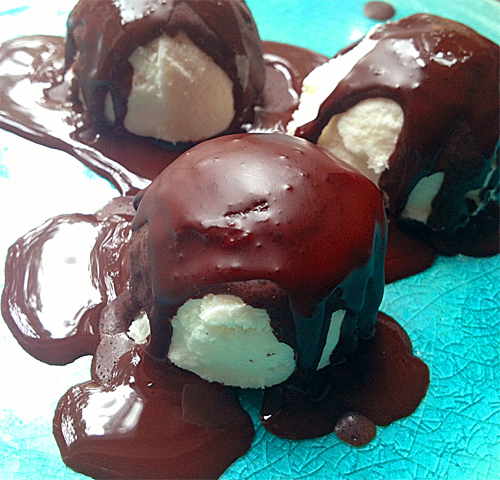 Chocolate Smothered Coconut Ice Cream Recipe
photo by recipe author
Servings: 6
Coconut Ice Cream:
Warm Chocolate Sauce:
(make this approximately 15 minutes before you serve)
Ice Cream:
Place coconut milk in a saucepan over medium heat. Reduce milk to 2 cups (about 2 hours), stirring often. Use a calibrated thermometer to be sure you do not go above 110 degrees ºF. Using a food processor, finely chop the coconut meat. Add to a large bowl and cover with the water. Stir often. Continue to soak until coconut milk is finished reducing.
Drain coconut well and add reduced coconut milk and honey. Blend in food processor until smooth and creamy – this is your ice cream base. Freeze in ice cream maker per manufacture instructions. After the cycle is complete, use a small ice cream scoop (one that is half the size of a traditional ice cream scoop) and make 24 uniform ice cream scoops. Set on a small sheet pan. Place in the freezer and freeze for 1 hour. Remove from the sheet pan and either serve or store in an air-tight covered container in the freezer.
Warm Chocolate Sauce:
Melt coconut oil in a double boiler with the water heated to 110 degrees ºF. Whisk in honey until well blended before adding cacao until smooth.
To serve:
Place 3 scoops of ice cream in each dish. Spoon the warm chocolate sauce over the scoops (you want it to look like the picture). Allow this to set up for 1 minute. Repeat a second layer over the first layer, allow to set up for 1 minute. Now cover with a third layer and serve. ENJOY!!
* For the freshest coconut milk make
homemade coconut milk. (See video at this
link.)
Joelle from South Lake Tahoe, CA just won $50 for this recipe and photo!
Submit yours here.
Published on March 26, 2014