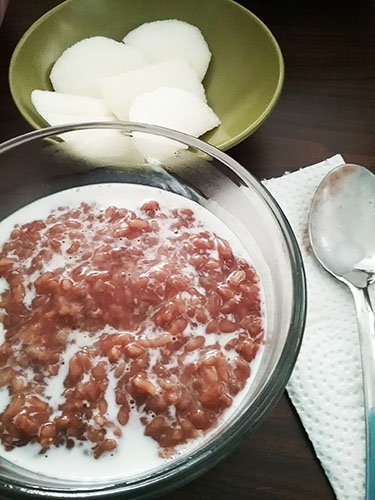 Chocolate Sticky Rice (Champorado)
photo by recipe author
Servings: 6
Preparation Time: 30-40 minutes
1.5 cups uncooked short grain gluttonous/sticky rice
5 cups or more water, for cooking rice
2-3 tablespoons coconut oil
1/4 cup organic cocoa/cacao powder
pinch salt
dash ground cinnamon
1 teaspoon organic vanilla extract
Thoroughly rinse rice. Place in a pot and cover with water. Set on medium heat. When water starts boiling, start stirring. Keep stirring and adding more water until almost cooked. Stir in the coconut oil and cocoa powder.
Then, add in the honey or maple syrup, salt, cinnamon and vanilla, mixing well.
Turn stove on low and simmer until rice is cooked.
Can be eaten hot or cold.
Myra from Lewiston, ME won $50 for this recipe and photo! Submit your recipes and photos here!
Published on October 11, 2016