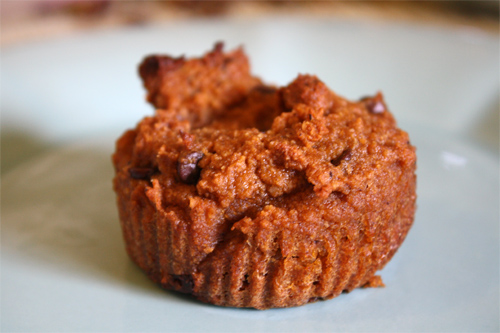 Chunky-Monkey Pumpkin Muffins
photo by recipe author
Servings: 48-60 Muffins
Preparation Time: 20 minutes
You may say, "Whoa! That's a lot of muffins!" but I say, "Who wants to store ½ a can of pumpkin? These high protein, GF, dairy-free, DELICIOUS, moist, kid-approved muffins are GREAT for breakfast, snacks, dessert, or dinner rolls. They store well in the fridge for days, and reheat well in the toaster oven. You can also store them on the counter for a couple of days! I'm sure they'd freeze well, though I haven't tried that- they don't last long enough! Lastly, you can keep the prepared batter for up to two days in the fridge and make a smaller amount of muffins fresh daily- pumpkin muffins one day, and chocolatey chunky-monkey delights the next!
Optional Chunky-Monkey Indulgences:
Preheat oven to 350 degrees ºF.
Place all of the dry ingredients into a standing mixer and blend thoroughly.
Place bananas, pumpkin and eggs into a blender and blend thoroughly. Melt coconut oil and honey together in a small pan. Add to the blender and blend thoroughly. Add the wet ingredients from the blender to the mixer and mix all ingredients together thoroughly.
These muffins taste like Fall muffins as is, but they taste like chocolate delights when you add some of the Optional Chunky-Monkey goodies!! Once whatever you want is mixed all up, use a large eating spoon and place heaping spoonfuls into large muffin baking cups.
Bake in preheated oven for 30 minutes. Remove and place on cooling rack to cool and store, or eat right away with some grass-fed butter!
Tips:
*If you want to lower the sugar, sub more bananas for the amount of honey you want to replace.
The best bananas to use are those that have really gotten spotted! When they get to that point and you're not ready to use them YET, you can peel them, place them into a baggie and put them into either the freezer or fridge. In the fridge, they can last up to 4 or 5 days! The sugary liquid will separate, but they are still fine to bake with! In the freezer, they can be used for awesome banana ice cream!
Tamara from Spring, TX just won $50 for this recipe and photo!
Submit yours here.
Published on May 9, 2014