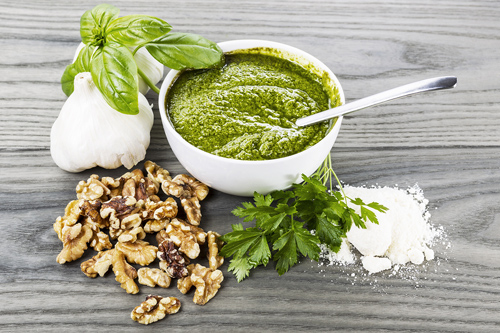 stock photo
This is a great 'base' recipe. You may add other things to it each time you make it, for a change, like green or black olives, sun dried tomato, jarred artichoke hearts, etc. You can even add a tablespoon of coconut cream concentrate for an extra coconutty flavor. The possibilities are endless. Enjoy!
1 cup fresh organic cilantro leaves- packed well into measuring cup
1 large clove garlic
6 tablespoons melted coconut oil (or 3 coconut oil and 3 olive oil)
2 tablespoons fresh lemon juice
1 cup raw almonds or walnuts (or other nut of your choice- organic if possible)
Place cilantro and garlic in food processor and process until well chopped. Add coconut oil and process a few seconds until mixture is well blended and fairly smooth. Add nuts and lemon juice and process until fairly smooth and well blended. Also, if it is too thick for your liking – add small amounts of water until you are happy with it.
I do not add salt- it does not need it- but you may add salt and pepper to taste if you wish. You may double this recipe and divide into two containers – it freezes well and is handy to have to flavor almost anything.
Recipe submitted by Donna, Castleton, NY
Published on December 10, 2008