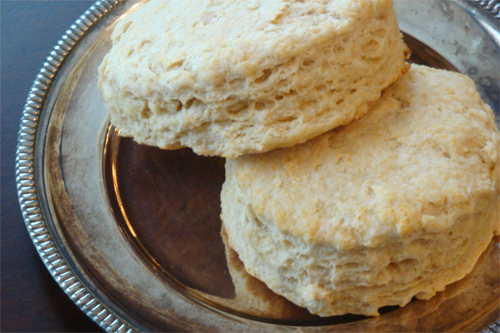 example photo shown
2 cups organic flour*
3 teaspoons baking powder
½ teaspoon salt
5 tablespoons coconut oil, solid
¾ cup coconut milk (see below) or regular milk
Preheat oven to 450 degrees F.
In a medium bowl mix flour, baking powder, and salt together. Cut in coconut oil and blend w/fingertips until mixture resembles coarse crumbs.
With a fork, toss flour mixture while adding milk. Mix until a dough forms. Add more milk if needed. On a lightly floured surface, pat dough out until about ½ inch thick. Cut with floured biscuit cutter and place on ungreased baking sheets.
Bake in preheated oven for 10-12 minutes. Delicious!
For coconut milk mix approximately 2 teaspoons coconut cream concentrate with ¾ cup water or make homemade coconut milk.
*For best results use 100% all purpose flour or half and half with whole wheat flour.
Recipe submitted by Nancy, Castle Rock, CO
Published on February 4, 2009