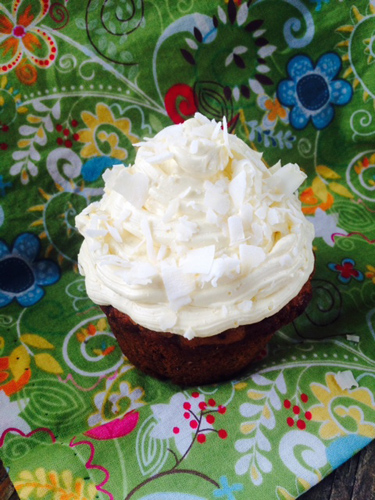 Coconut Banana Cupcakes with French Buttercream Icing
photo by recipe author
Servings: 16
Preparation Time:  1 hour 30 minutes
Coconut Banana Cupcakes:
French Buttercream Frosting:
Coconut Banana Cupcakes:
Preheat oven to 350 °F
Cream butter, coconut oil, sugar and honey together in a large bowl or stand mixer until light and fluffy. Add eggs, sour cream, and vanilla extract and mix thoroughly. Add bananas and mash with a potato masher until small lumps remain.
In a large bowl, combine coconut flour, whole wheat flour, baking powder, baking soda, and salt. Add wet mixture to dry mixture and stir until just combined.
Spoon into cupcake molds and bake until toothpick inserted into the center comes out clean, about 10-12 minutes.
Remove from oven and allow to cool completely before frosting.
French Buttercream Frosting:
Add sugar and water to a small saucepan and cook over low heat until sugar has dissolved and it reaches 238 °F. If you don't have a candy thermometer, cook until it reaches soft ball stage.
In a stand mixer combine egg yolks and salt. Beat on medium-low until light yellow and fluffy. Continue to mix while adding the sugar syrup (pour it in a slow stream near the side of the mixer.) Beat on high speed until the mixture is very light colored, fluffy, and has cooled to body temperature.
Mix in butter and coconut oil to frosting one tablespoon at a time. Once all the butter and coconut oil is incorporated, add vanilla extract and mix gently. Spoon into a piping bag and frost cupcakes. Garnish with chopped or shredded coconut as desired.
Marijah from Columbia, KY won $50 for this recipe and photo! Submit yours here!
Published on April 6, 2015