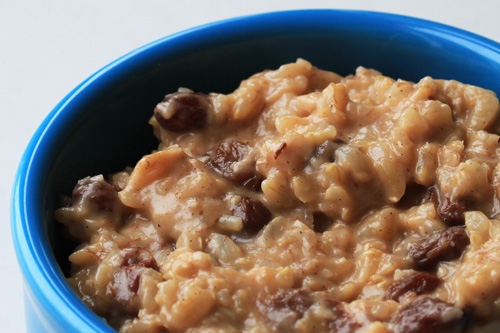 Coconut Banana Ginger Brown Rice Pudding with Raisins
Prepared by Sarah Shilhavy, Photo by Jeremiah Shilhavy
Servings: 6
Preparation Time: 10 minutes
This Brown Rice pudding is sweetened with banana, crystallized ginger, and raisins. Perfect for breakfast or dessert!
Place cooked rice in a pot. Add water, cardamom, vanilla, cinnamon, raisins, ginger, and shredded coconut. Turn heat to medium, make sure to stir constantly.
Once the mixture has come to a simmer, add in the bananas and stir so they become liquefied in the mixture. Keep stirring! Add in the coconut oil.
Once the mixture has absorbed all or most of the water, add the milk. Keep stirring! When the rice has become mushy and absorbed a lot of the coconut milk and has a pudding like thickness to it, your rice pudding is done! Add more milk if/as needed to adjust texture and consistency. Delicious!
Recipe submitted by Emily, Philadelphia, PA
*Use 1 teaspoon of coconut cream concentrate for every 6-8 oz of water for coconut cream milk. Mix together and use as directed or make homemade coconut milk.
Published on January 27, 2010