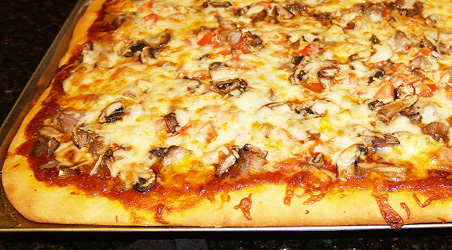 Prepared by Marianita Shilhavy
Photo by Jeremiah Shilhavy
Toppings (amounts as desired):
Barbecue sauce
Cooked lamb or other meat of choice, chopped
Sliced mushrooms
Chopped tomatoes
Mozzarella cheese, shredded
Parmesan cheese, shredded
In a medium bowl mix flour, coconut flour, and salt. Set aside.
In a large bowl stir 1/2 cup lukewarm water, yeast, oil and sugar, let stand until foamy.
Stir in the remaining 3/4 cup water. Add flour mixture.
Mix together and form into dough. Knead the dough on a floured surface until smooth and elastic.
Form the dough into a ball. Place ball into a bowl greased with extra coconut oil and turn once to coat. Cover with a damp towel and let it rise in a warm place until double in size, about 30-45 minutes.
Once dough has risen punch down gently and roll out to desired shape and thickness. If using a large cookie sheet grease sheet with palm shortening and roll dough out on the sheet to cover.
Brush dough with coconut oil. Spread the barbecue sauce on and sprinkle with a bit of mozzarella cheese. Add remaining toppings of choice and top lastly with parmesan cheese.
Pre-heat oven at 425 degrees and bake for 15-25 minutes or until golden brown and the cheese is bubbly.
Enjoy!
By Marianita Shilhavy
Published on September 21, 2009