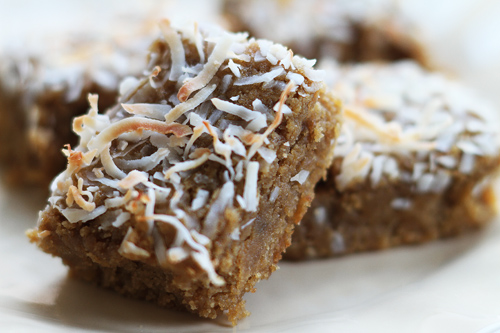 example photo shown
Heat oven to 350 F. Line bottom and sides of 8×8 pan with aluminum foil and grease with extra coconut oil. Leave a 2 inch overhang of foil around at least two sides of the pan.
Wisk together the flours, coconut flakes, baking powder and salt in a small bowl. Set aside.
Place coconut oil, honey and dates into small saucepan over low heat and melt coconut oil, stirring constantly. Pour into large bowl. Add apple sauce, vanilla, and dry ingredients; mix well. Fold in half of the chopped almonds. Batter will be very stiff.
Pour batter into prepared pan and spread evenly with spatula. Top with remaining almonds.
Bake until a wooden tooth pick inserted in center comes out with a few crumbs, but not wet. 18-20 minutes.
Cool in pan on wire rack 15 minutes. Lift out foil and cool completely on rack. Remove foil and cut into squares.
Store in air-tight container. Will keep for three days this way. Put in fridge and they will keep much longer, if they last that long!
*You can omit the dates and increase the honey by 1/4 cup.
Recipe submitted by Sandra, Inyokern, CA
Published on May 27, 2009