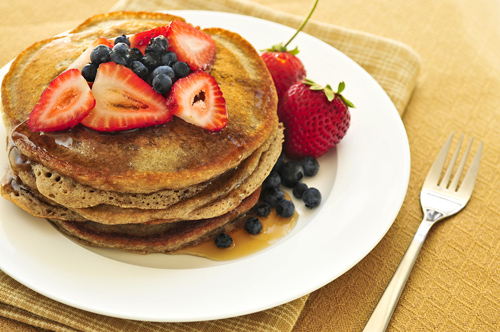 Coconut Blueberry Buckwheat Pancakes
stock photo
1 cup coconut flour
1 cup buckwheat flour
6 teaspoons baking powder
1 teaspoon salt
1 cup blueberries (frozen or fresh)
2 eggs, beaten
2 cups milk (I sometimes use 1 cup milk and 1 cup yogurt for fluffier pancakes).
1/4 cup brown rice syrup
1/3 cup coconut oil, melted
Sift all dry ingredients together. Toss in blueberries.
Whisk all wet ingredients (except 2 tablespoons coconut oil) together and combine dry and wet ingredients. Mix only until all dry ingredients are moist.
Add 2 tablespoons coconut oil to fry pan or griddle. Spoon or pour batter in desired amounts. Cook until bubbles form, turn to finish cooking.
Serve with desired toppings (I like applesauce). Enjoy!
Recipe submitted by Patricia, Royal Palm Beach, FL
Published on September 19, 2009