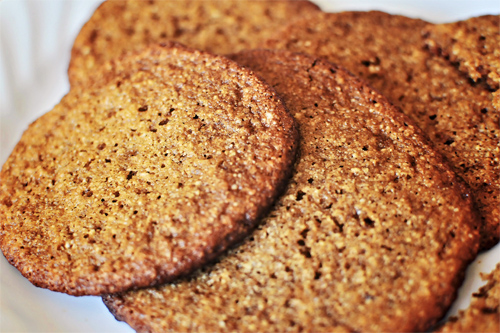 Coconut Butter Cookies Recipe
photo by recipe author
Servings: 24
Preparation Time: 10-20 minutes total
In a medium bowl, combine coconut flour, almond flour and salt.
In a large mixing bowl, beat together the softened coconut oil and honey until smooth, then add the coconut cream concentrate, egg, and vanilla and flours, beating thoroughly after each addition until smooth. Cover the bowl and place in refrigerator for at least one hour.
Preheat oven to 350 degrees. Line two baking sheets with parchment paper.
Using a rounded tablespoon and wet hands, form the dough into 1 1/2 inch balls, then flatten balls on baking sheet to about 1/2 inch thickness. Bake for 15 to 17 minutes, until golden brown. Cool for 5 minutes on baking sheet before removing to cooling rack to finish cooling.
Recipe submitted by Stacey, TX
Published on March 29, 2013