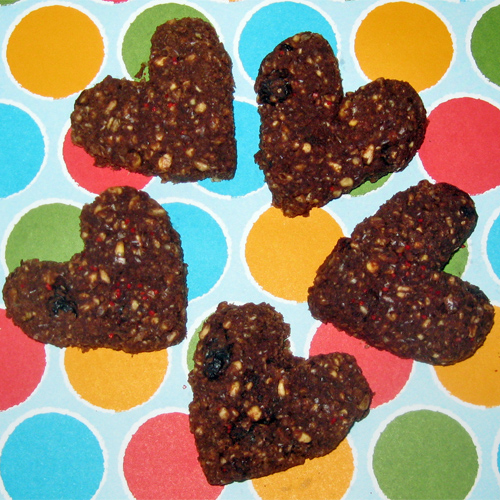 Coconut Cacao Cookies
photo by recipe author
Servings: 15 cookies
Preparation Time: 30 minutes
Soak the groats, almonds and dates overnight individually in a half cup spring water each.
Drain them the next morning and put in food processor with the salt, cacao, coconut oil, coconut flour, vanilla extract, honey and spring water.
Process for about a minute, transfer contents to bowl, fold in raisins.
For heart shaped cookies you can shape them by hand or with a cookie cutter.
If you want to dehydrate them, place in dehydrator at 105 degrees for 3 hours or pop them in the oven at 350 degrees for about 12 minutes.
Recipe submitted by Tori, Nashville, TN
Published on January 31, 2011