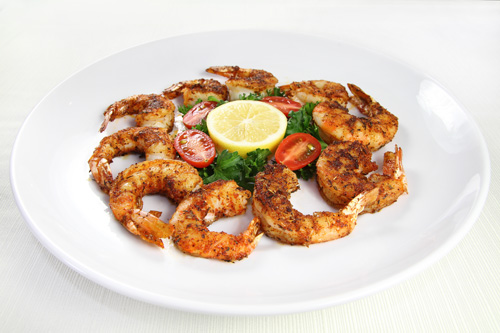 Coconut Cajun Shrimp
Prepared by Sarah Shilhavy, Photo by Jeremiah Shilhavy
This quick, easy and delicious recipe can be served as an appetizer, over rice as an entree, or even on a salad!
Servings: 2 to 4
Preparation Time: 10 minutes
Aprox. 12 large shrimp, peeled and de-veined
3 teaspoons Cajun seasoning
Salt, if needed
Rice (for serving)
Salad (for serving)
Lay shrimp in a single layer on a plate. Generously sprinkle 1 teaspoon of the seasoning over the shrimp. Flip over to other side and season with the rest of the seasoning. Lightly sprinkle with salt if you used a salt free seasoning. Add cayenne pepper if you want a spicier shrimp.
Heat 1/4 inch coconut oil in frying pan. Fry shrimp in medium to high heat until you start to see the edges turn white, approximately 2 minutes.
Flip and cook other side, approximately 1 to 1 1/2 minutes. Do not overcook.
Recipe submitted by Rebekah, Wellington, FL
Published on November 13, 2009