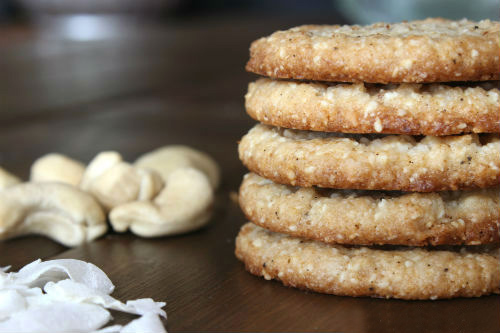 Coconut Cashew Cookies Recipe
photo by recipe author
Servings: 20
Preparation Time: 15 minutes
1 1/2 cups raw cashews
1/3 – 1/2 cup granulated sweetener
1/4 teaspoon vanilla beans, about 2 beans
1/4 teaspoon baking soda
1/4 scant teaspoon salt
1/4 cup virgin coconut oil, melted
2 tablespoons full fat coconut milk*
Preheat oven to 350 degrees F.
Place the cashews and coconut in a food processor and pulse until a coarse sand texture is created.
Add the sweetener, vanilla beans, salt and soda and pulse until combined.
Add in the oil and coconut milk and pulse again to form a dough.
Using a cookie scoop or spoon, place balls of dough on a parchment cookie sheet and press down slightly on each dough ball. They will spread more in the oven.
Place an additional cookie sheet under the other sheet to prevent the bottoms of the cookies from browning too much.
Bake at 350 for 8-10 minutes, until slightly brown.
Remove from the oven and let the cookies sit on the cookie sheet for 5 minutes to set then place them on a cooling rack to get crisp.
Store in an airtight container.
* For the freshest coconut milk make homemade coconut milk. (See video at this link.)
Recipe submitted by Kate, Highlands Ranch, CO
Published on March 13, 2013