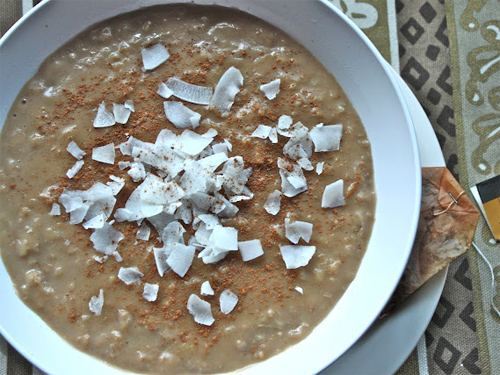 Coconut Chai Tea Oatmeal Recipe
photo by recipe author
Servings: 1
Preparation Time: 25 minutes
Recipe: In a coffee or glass measuring cup, heat water and steep the tea bags for at least 5 minutes. The stronger the tea, the more the chai taste will come through.
In a small pot, heat the tea and milk over medium heat. Stir in oats, coconut extract, chia seeds and banana. Cook for approx. 20 minutes, or until desired consistency.
Pour into a bowl and sprinkle cinnamon and coconut on top.
* For the freshest coconut milk make homemade coconut milk. (See video at this link.)
Recipe submitted by Shelby, Orangevale, CA
Published on August 8, 2012