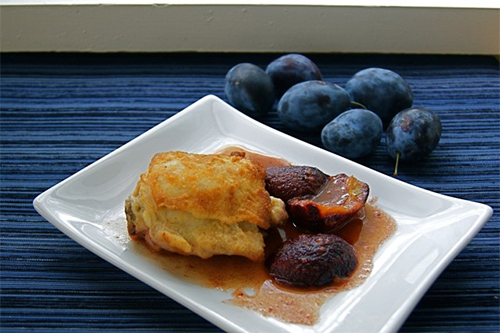 Coconut Chicken with Plum Sauce Recipe
photo by recipe author
Servings: 4
Preparation Time: 25 minutes
Dredge the chicken with the coconut flour, coating all sides. Sprinkle with the salt.
In a 12-inch skillet, heat coconut oil over medium heat. When it is melted, add the chicken pieces, skin sides down. Cook for 4-5 minutes, or until the skin is getting crispy. Flip over the chicken to let it brown for 2-3 minutes on the other side.
Stir together the water, vinegar, garlic, and pepper, and pour it around the chicken. Tuck the plum halves around the chicken pieces. Cover the pan and let it cook for 10 minutes, or until the chicken is cooked through. The sauce will thicken as it cooks, but for a thicker sauce, uncover the skillet and let it cook for an additional 3-5 minutes, or until the sauce is the desired consistency. Taste and adjust seasonings, if needed.
Recipe submitted by Angela, Longmont, CO
Published on February 7, 2013