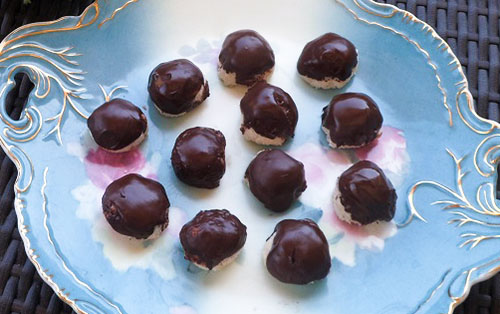 Coconut Chocolate Bites
photo by recipe author
Servings: 12
Preparation Time: 10 minutes
Combine all ingredients except for the chocolate in a food processor and whirl until well-combined.
Scoop out mixture and roll into 12 balls. Chill for 30 minutes on a baking sheet or pan.
Melt chocolate in a saucepan over low heat.
Carefully dip tops of the bites in the chocolate, and return them to the baking sheet. Chill until the chocolate has hardened.
Stephanie from Rio Rancho, NM won $50 for this recipe and photo! Submit your recipes and photos here!
*Gluten Free Flour Mix
1 cup brown rice flour
1/2 cup coconut flour
1/4 cup cornstarch
2 tablespoons tapioca flour/starch
1 1/2 teaspoons xanthan gum
Mix all ingredients together until well blended. Use as directed.
Published on May 26, 2018