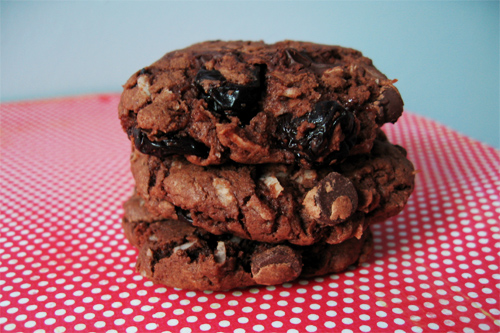 Coconut Chocolate Chip Cherry Cookies
Photo by recipe author
Servings: 18
Preparation Time: 10 minutes
In a large bowl beat together the sugar and butter until light and fluffy. Add in the egg and vanilla and beat until smooth and creamy.
In a medium bowl, whisk together the flour, cocoa powder, salt and baking powder. Gradually add flour mixture into the butter mixture, beating well after each addition.
Add in the cherries, coconut and chocolate chips; mix into dough until well combined. Cover and refrigerate for 30 minutes.
Preheat oven to 350 degrees. Scoop a tablespoon full of dough and roll into balls using hands. Place cookie balls on a baking sheet lined with parchment paper and bake for 12-15 minutes. Let cool on baking sheet for 10 minutes and then move to cooling rack to finish cooling.
Recipe submitted by Dunne, Columbia, SC
Published on October 18, 2010