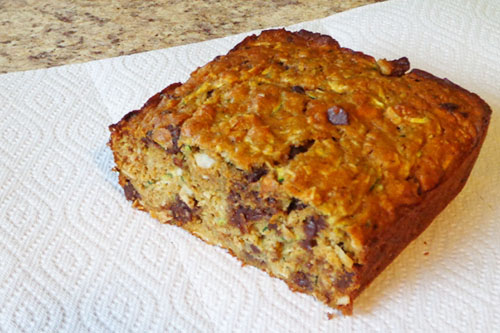 Coconut Chocolate Chip Zucchini Bread
photo by recipe author
Servings: 10
Preparation Time: 1 hour
Preheat oven to 350° F.
In a large bowl combine the first 6 ingredients. Mix and set aside.
In a small bowl, beat the two eggs with a fork.
Melt the coconut oil and cool slightly in a smaller container.
In the meantime, add the apple butter, honey, and yogurt to egg mixture and mix to combine. Mix in the melted coconut oil until all is well combined and set aside.
Shred zucchini to get about 1 1/2 cups, can be a little more (about 1 1/2 small zucchinis).
Add the liquid mixture and the shredded zucchini to the bowl of dry ingredients and mix until combined. Scoop mixture into a greased 9 x 5 loaf pan and smooth top evenly.
Bake for about 45 minutes, or until a toothpick inserted in center comes out clean. Oven temps can vary – it might take a bit longer or shorter, watch carefully.
Cool in pan for 10 minutes and remove from pan to continue cooling completely on the baking rack. Serve with grass-fed butter or room temperature coconut oil.
Jennifer from Cynthiana, KY won $50 for this recipe and photo! Submit your recipes and photos here for a chance to win $50!
Featured Product
In 2014 when we tested our USDA certified organic grains, we found that almost all of them had traces of the herbicide glyphosate at levels similar to non-organic wheat. (See: ALERT: Certified Organic Food Grown in U.S. Found Contaminated with Glyphosate Herbicide.)
Some scientists and researchers believe that the epidemic of gluten-sensitive diseases we are seeing today are related to glyphosate, and not necessarily the gluten.(See: Common Weedkiller Used in Modern Agriculture Could be Main Factor in Gluten Intolerance.)
While anyone with gluten sensitivities definitely needs to avoid gluten, for the rest of us, we need to be consuming healthy grains that are not contaminated. After much research, we found a source in Italy that grows traditional soft wheat where batches we tested showed no trace of herbicides.
Healthy Traditions is excited to bring you this high-quality Italian Type 00 Flour! This is the flour Italians use to make the absolute best pizza crust. It is also very versatile and can be used to make light and fluffy bread, cakes, fresh pasta and more! The light airy texture makes this flour a joy to work with and your creations will turn out fantastico!
This easy to use flour is from soft wheat grown on a single, organic, Italian farm that doesn't use any chemical pesticides or fertilizers.
The flour has been milled by one of the best family run mills in Italy. This flour has been sifted but is NOT enriched, bromated, bleached or otherwise adulterated in any way. The only ingredient is soft wheat flour.
Buy it here!
Published on April 17, 2017