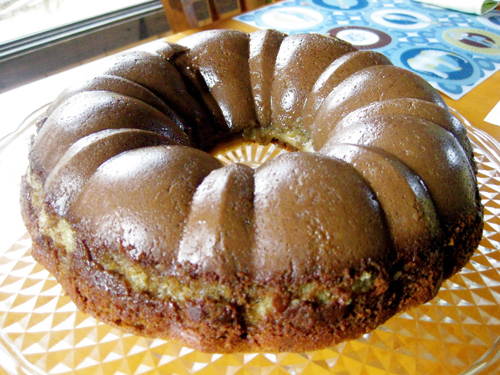 Coconut Chocolate Flan Cake
photo by recipe author
Servings: 10-14
Preparation Time: 1 1/2 hours
Cake:
Custard:
1 14-ounce can sweetened condensed milk
1 12-ounce can evaporated milk
½ cup organic cocoa powder
1 teaspoon vanilla extract
4 large eggs
Cake:
Place a rack in the center of the oven and preheat to 375° F.
Grease a 10-inch Bundt pan with coconut oil.
In a bowl, whisk together flour, shredded coconut, sea salt, baking soda and baking powder.
In another bowl, whisk together coconut milk, vinegar and vanilla.
Using an electric mixer, beat together butter and sugar until pale and fluffy, about 4 minutes. Beat in egg. Beat in flour mixture and then coconut milk mixture until smooth. Pour into prepared pan and smooth the top.
Custard:
Put all ingredients in a blender and blend until smooth. Pour custard on top of cake batter.
Set Bundt pan in a large roasting pan and place in oven on the center rack. Pour enough very hot water into roasting pan to come halfway up sides of Bundt pan.
As the cake bakes, custard will sink to bottom of pan. Bake until a toothpick inserted into cake comes out clean, 50 to 55 minutes.
Transfer Bundt pan to a wire rack to cool completely, at least 2 hours.
To serve, place a plate or platter upside down over the Bundt pan and invert.
*For the freshest coconut milk make homemade coconut milk. (See video at this link.)
Karen from Quincy, CA won $50 for this recipe and photo! Submit your coconut recipes and photos here!
Published on December 2, 2015